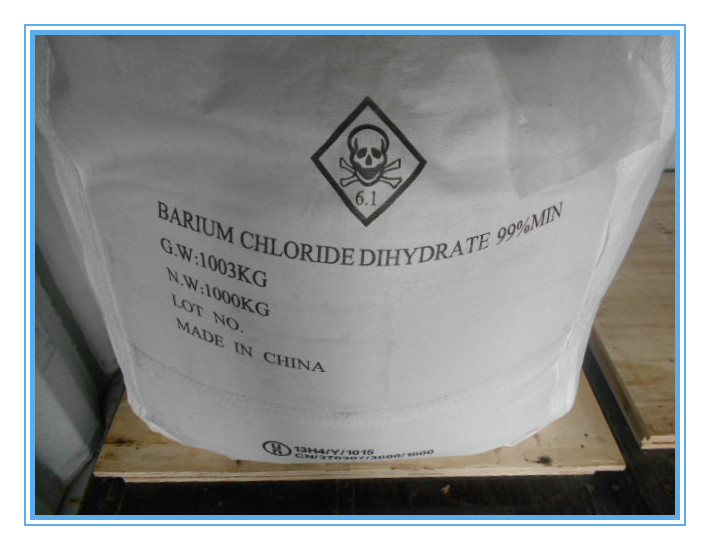 Barium Chloride Dihydrate/Anhydrous 

CAS No.: 10361-37-2
  analysis title

Bacl2.2H2O

Examination
rank

Qualified

analysis time

2018-10-03

Batch number

3703W6018001

Analysis people

SUNXIAOHONG

QUANTITY

66MT

No.

Analysis items

unit

1

BaCl2.2H2O

>=99%

2

Ca

<=0.1%

3

Sr

<=0.09%

4

Fe

<=0.001%

5

Water insoluble matter

<=0.1

6

Production date

2018-10-02

7

Expire date

2020-10-01

Molecular Formula: BaCl2
UN No.: 1564
PACKAGE: 25kg net each in P.P woven bag lined with P.E bag.
PROPERTY: Colorl
USAGE: As a cheap, soluble salt of barium, barium chloride finds wideapplication in the laboratory. It is commonly used as a test for sulfate ion(see chemical properties above). In industry, barium chloride is mainly used inthe purification of brine solution in caustic chlorine plants and also in themanufacture of heat treatment salts, case hardening of steel, in the manufactureof pigments, and in the manufacture of other barium salts. BaCl2 is also used infireworks to give a bright green color. However, its toxicity limits itsapplicability. Barium Chloride is also used (with Hydrochloric acid) as a testfor sulfates. When these two chemicals are mixed with a sulfate salt, a whiteprecipitate forms, which is barium sulfate.